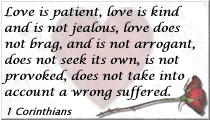 "TOGETHER"
You are the one that I chose !
When we kiss I hold you so close !
I hold you close because I never want you to go home !
I just don't want you to leave me in this world all alone !
So kiss me good and hold me tight ,
Let me know everything is going to be alright !
Happiness is what we feel when we hold each other !
But for now our Love must remain undercover !
Each others hearts we chose to steal !
For we have our reasons not to show the world how we feel !
Holding hands and keeping our kissing concealed !
A short time ago our Love was sealed !
Your kiss is passionate and also sweet !
The sensation sweeps me right off my feet !
Your touch so soft and yet so tender !
Becauses when we are together you are not a pretender !
When we make Love our bodies quiver !
Our breathing deepens as we shiver !
And our heatbeats begin to quicken ,
As if by lightening we were stricken !
From my heartbeat to your heartbeat ,
We see happiness that is so sweet !
As we stare deep into each others eyes !
We see the strength of our ties ,
That hold us together !
We know our lives couldn't be better !